STATE AUDITING OF REGION XII
STATE TREASURY AT THUA THIEN HUE PROVINCE
VINSCHOOL CENTRAL PARK AT HO CHI MINH
VINHOMES CENTRAL PARK AT BINH THANH, HO CHI MINH
HBI
VINPEARL AT PHU QUOC
VINPEARL PREMIUM GOLF LAND ĐAM GIA
VILLA PARK AT HO CHI MINH
Aluminum prices continuously hit peaks over the first half of 2021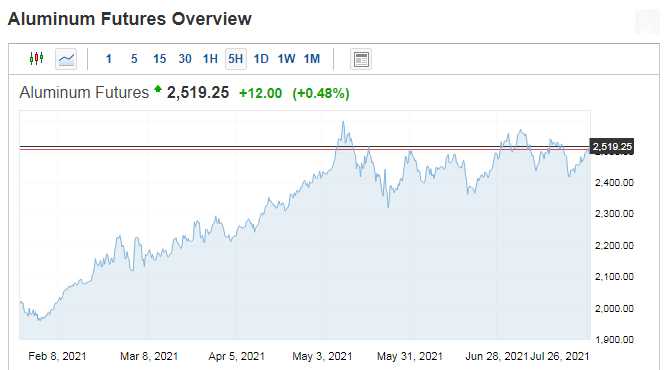 Aluminum prices have continued to rise during the first half of 2021
Aluminum prices traded on the Shanghai Metal Exchange on March 16 hit a nine-year high, at 17,980 CNY/ton ($2,766/ton) and reached an 11-year high at 18,460 CNY/ton ($2,830/ton) on April 16. Aluminium's LME price climbed to a 3-year high of $2,603/ton in early May.
Countries' production protection policies
A number of policies in the EU, UK, and Russia, designed to protect domestic aluminum production, have led to a sharp rise in aluminum prices. Many countries accuse China of maintaining an excess of aluminum and steel production and selling at lower prices than the average. The European Union imposed anti-dumping duties ranging from 21.2% to 31.2%, and a temporary additional tax between 19.3% and 46.7% for certain Chinese aluminum products imported into the European Union. The UK officially launched an anti-dumping investigation of Chinese aluminum on June 21. Russian authorities implemented a 15% aluminum export tax from August 1 to the end of the year to protect the domestic defense and construction industries from rising raw material costs.
Moscow levies a 15% tax on aluminum exports to protect the domestic industry (Photo: Reuters)
Inflation and high transportation costs
After a series of massive government fiscal support packages and the Fed's loosening monetary policy in the context of a strong recovery of the US economy after Covid-19, US inflation has reached a very high level. After a series of massive government fiscal support measures and the Fed's easing of monetary policy in response to a strong recovery in the US economy following Covid-19, inflation in the US is rising quickly.
US inflation led to a depreciation of the dollar – the international currency of aluminum, contributing to pushing up aluminum prices.
Freight rates have risen sharply globally due to congestion and disruptions to supply chain by the Covid-19 pandemic. "Decade-high ocean freight rates have seen the costs of delivering aluminum skyrocket," said Jorge Vasquez, founder of consultancy Harbor Aluminum.
Supply and Demand Imbalance
Aluminum supplies are at risk of being squeezed due to anti-pollution policies in China, which accounts for about 60% of global aluminum production. Meanwhile, the United States announced a series of sanctions against Russia over allegations of election interference, cyber security, the conflict in Ukraine, and so on. In 2018, US sanctions against Russia pushed aluminum prices on the London Stock Exchange to a seven-year high.
Global Aluminum demand has increased rapidly (Photo: Ngoc Diep Group)
While the aluminum supply is limited, the demand is still growing steadily. Global economic growth is expected to reach 5.4% in 2021, thanks to a strong recovery in major economies such as the US, China and Europe. When the global economy recovers after the pandemic, aluminum demand rises sharply due to its wide range of uses in transport, construction, electronics, etc. Citi analysts expect global aluminum consumption to grow 6.4% this year to nearly 68 million tons and 4.6% in 2022 to nearly 71 million tons. Citi analysts predict that global aluminum demand will grow 6.4% this year to nearly 68 million tons and another 4.6% in 2022 to nearly 71 million tons. Citi predicts that the world aluminum market will have a surplus of 720,000 tons of aluminum in 2021, but a deficit of 590,000 tons in 2022.
Domestic market difficulties
Domestic aluminum producers report that in the first half of 2021, the availability of raw aluminum will not be sufficient to meet the demands of manufacturers, causing the price of aluminum raw material to continue to rise. Manufacturers are delayed in receiving materials by 2 to 3 months compared to the contract, affecting short-term production. Aluminum's high world price and rising raw aluminum demand have pushed up the domestic price of aluminum.
To ensure supply for the market, aluminum producers need to be proactive about their raw material sources (Photo: Ngoc Diep Group)
In addition to facing difficulties when raw aluminum increases, the domestic aluminum industry is also under pressure from Chinese enterprises on their own market. Chinese enterprises have been reported to have invested in aluminum factories in Vietnam to avoid Vietnam's anti-dumping tax and anti-dumping taxes when exporting aluminum to the EU, UK, US and other markets.
Due to the above difficulties, Vietnamese aluminum manufacturers need to have effective risk management solutions, prepare raw materials for long-term use, and optimize organizational and operational capacity in order to maintain production and ensure supply during and after the epidemic. Ngoc Diep Aluminum Joint Stock Company with the Dinostar Aluminum brand is a typical example of proactively sourcing raw materials to ensure production in a volatile market environment. The company's strong financial position, coupled with proactive stockpiling of raw materials, guarantees a stable supply of raw materials for maintaining production.
In 2021, the company will expand its Dinostar Aluminum factory, increasing its total production scale from 75.000 m2 to almost 12.000 m2 while investing in modern machinery lines equipped with the latest 4.0 technologies. Ngoc Diep Aluminum Joint Stock Company maintains a stable growth rate with outstanding production capacity and the initiative to adapt to the market situation, ensuring an abundant supply of aluminum products and high quality aluminum billets for the market.
Cafef article: https://cafef.vn/gia-nhom-lien-tiep-lap-dinh-trong-6-thang-dau-nam-20210728193905318.chn
Prevention and control of acute respiratory infections (nCoV) at Ngoc Diep Group
At the entrance and the garage area, all employees will be checked body temperature before entering factories and offices. The elevator area, fingerprint area and the cafeteria is also equipped with antiseptic hand washing solution, ensuring maximum prevention of infection.
At  118 Nguyen Du Office, Hanoi, the building management board sprayed for disinfectant, and at the same time,  applied many supportive measures, propagated instructions, measured body temperature of all employees and guests before entering the company, prepared hand-washing, cleaning and disinfecting daily, offices, corridors, toilets …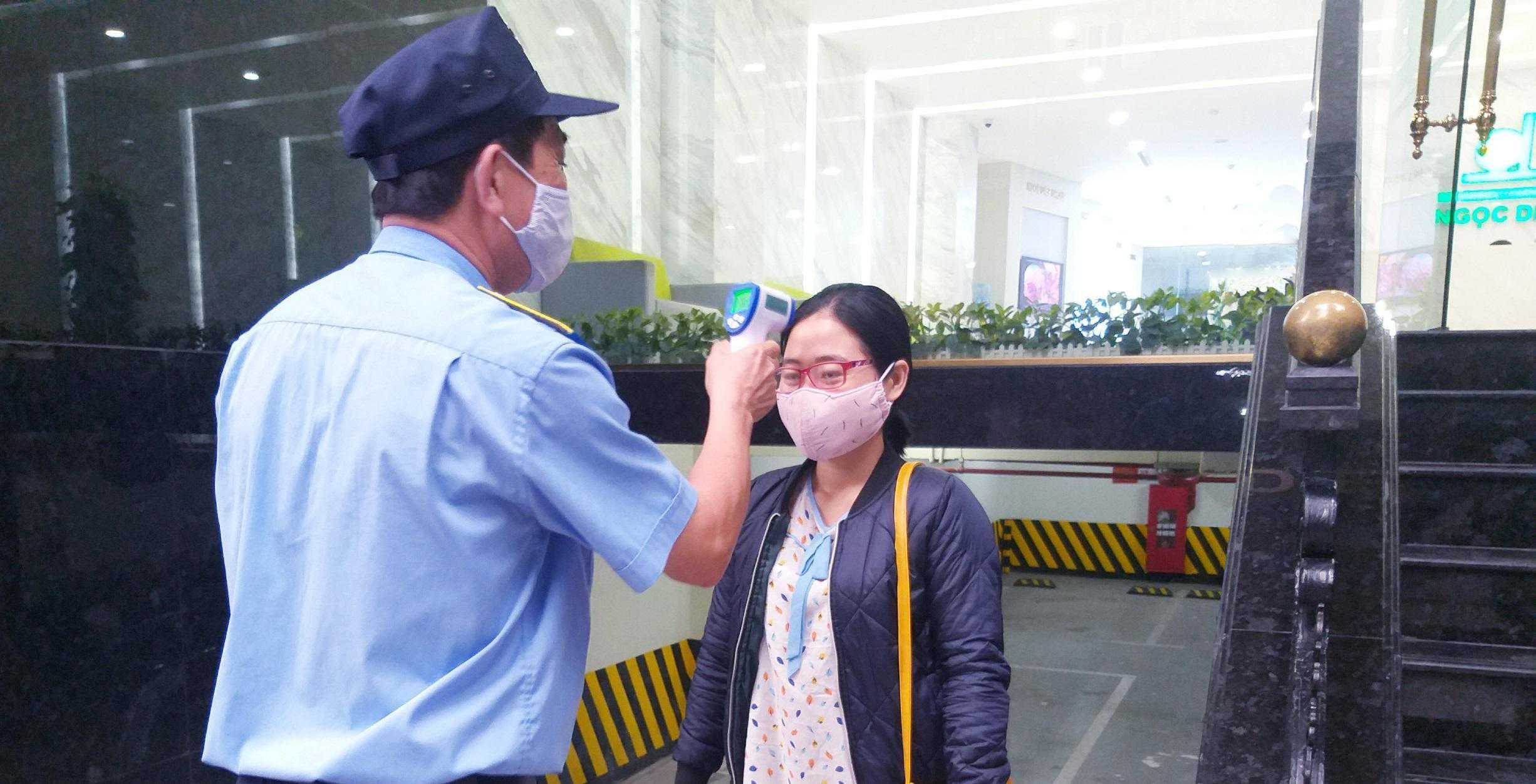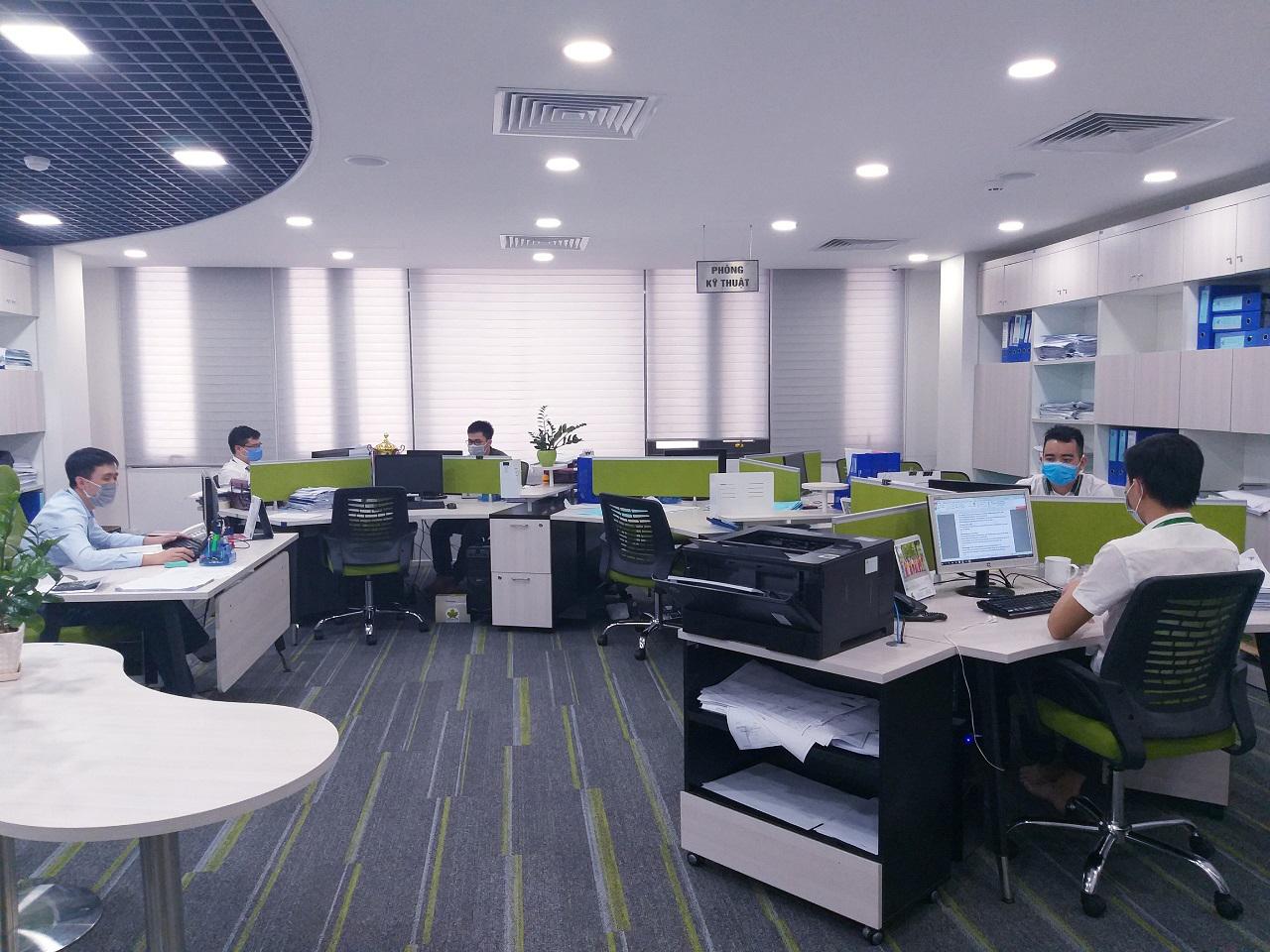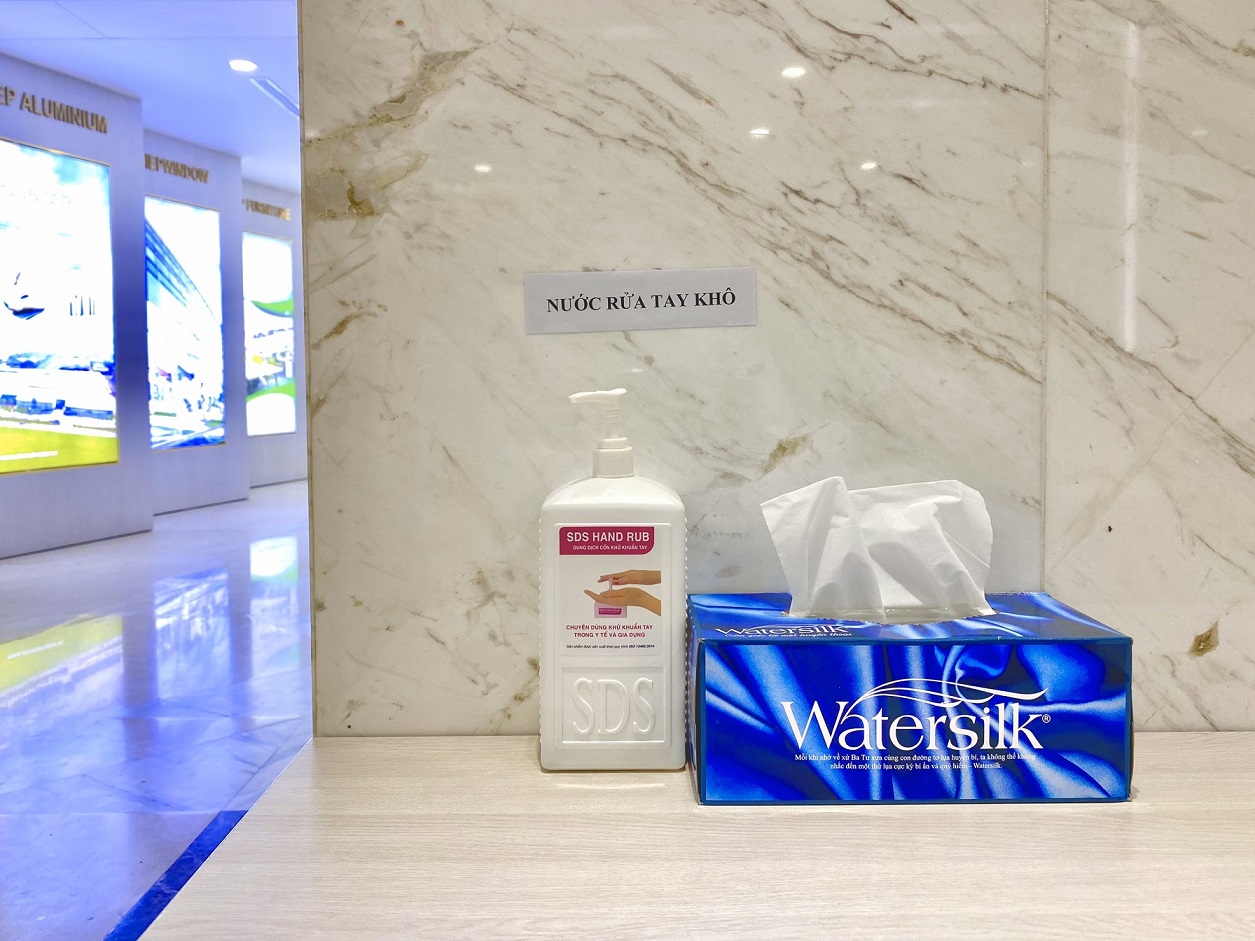 Simultaneously, a lot of  propaganda articles and videos on symptoms and prevention of Corona Virus are updated regularly and continuously on the Group's fanpage and the company's general screen.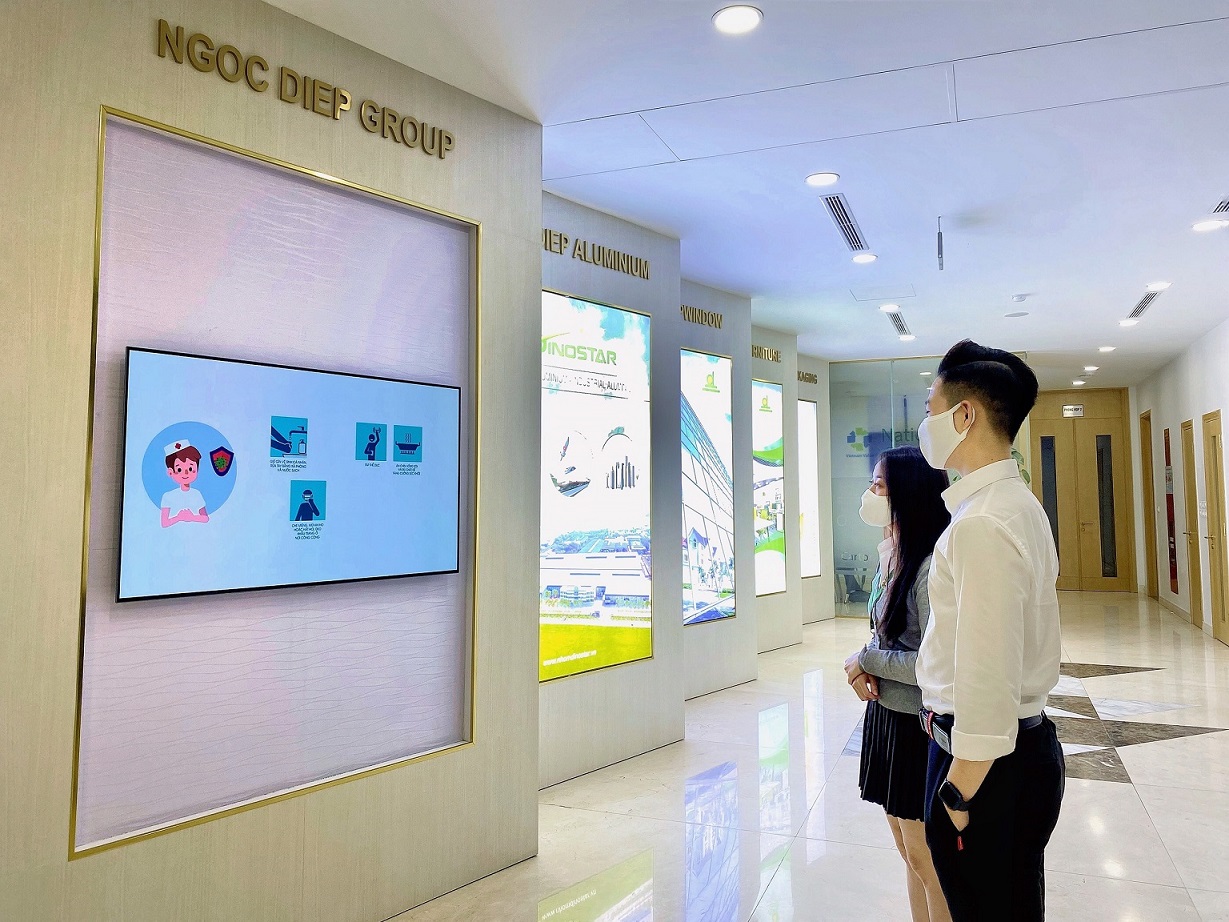 The system of Group's factories in Hung Yen also carried out synchronous measures to prevent and control against coronary diseases such as spraying disinfectant, checking body temperature of all employees, visitors when entering and leaving the gate, spraying disinfectant. , wear a mask at work …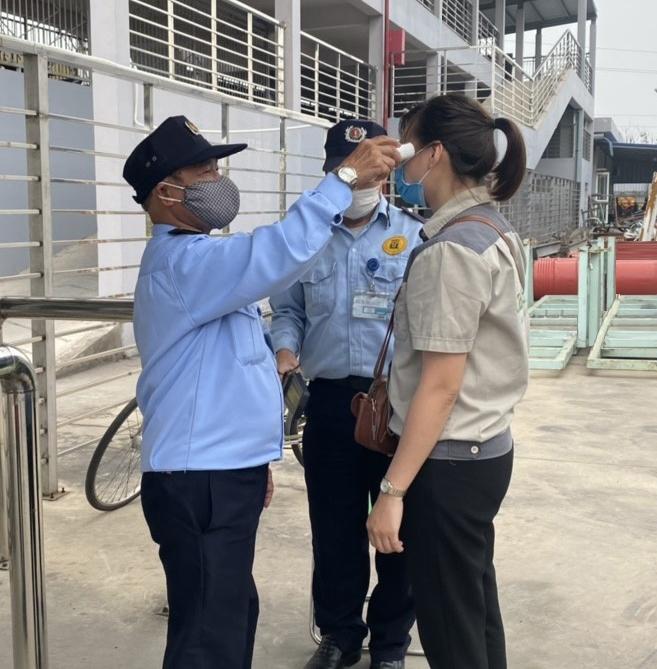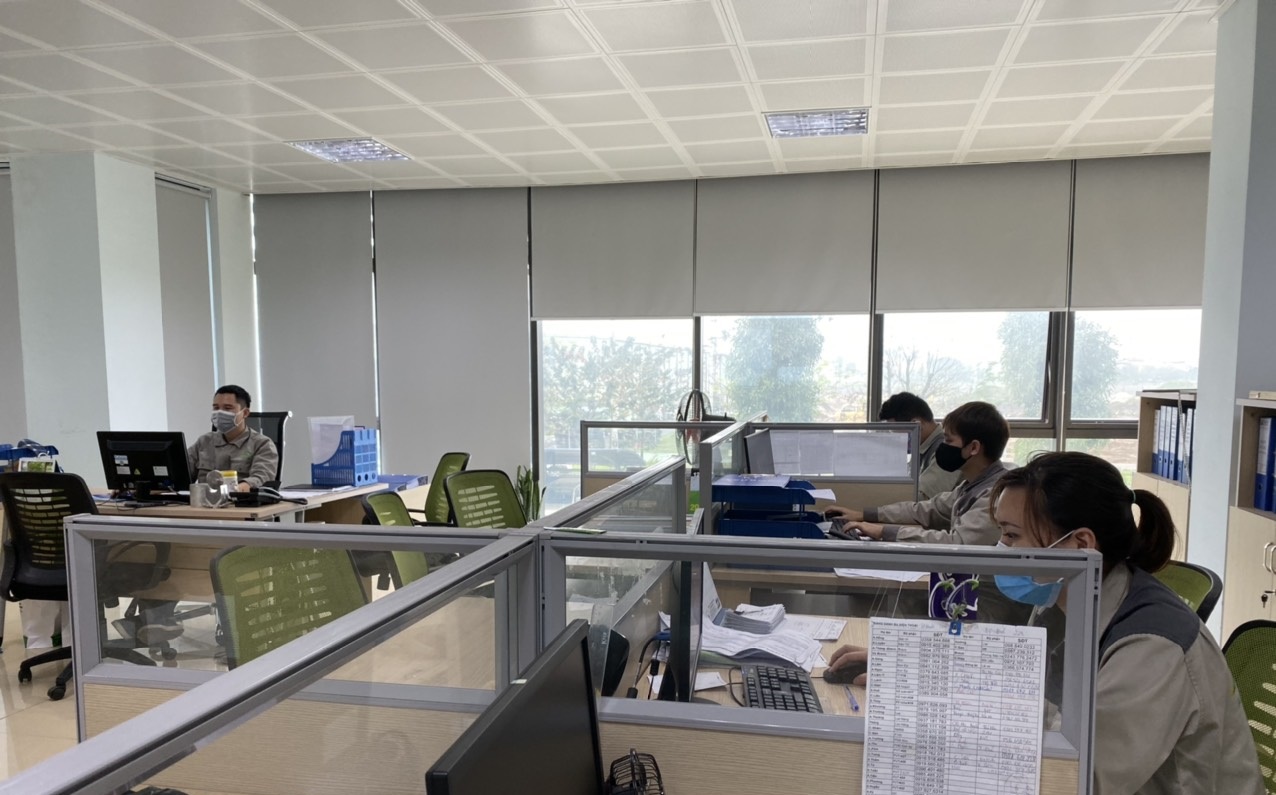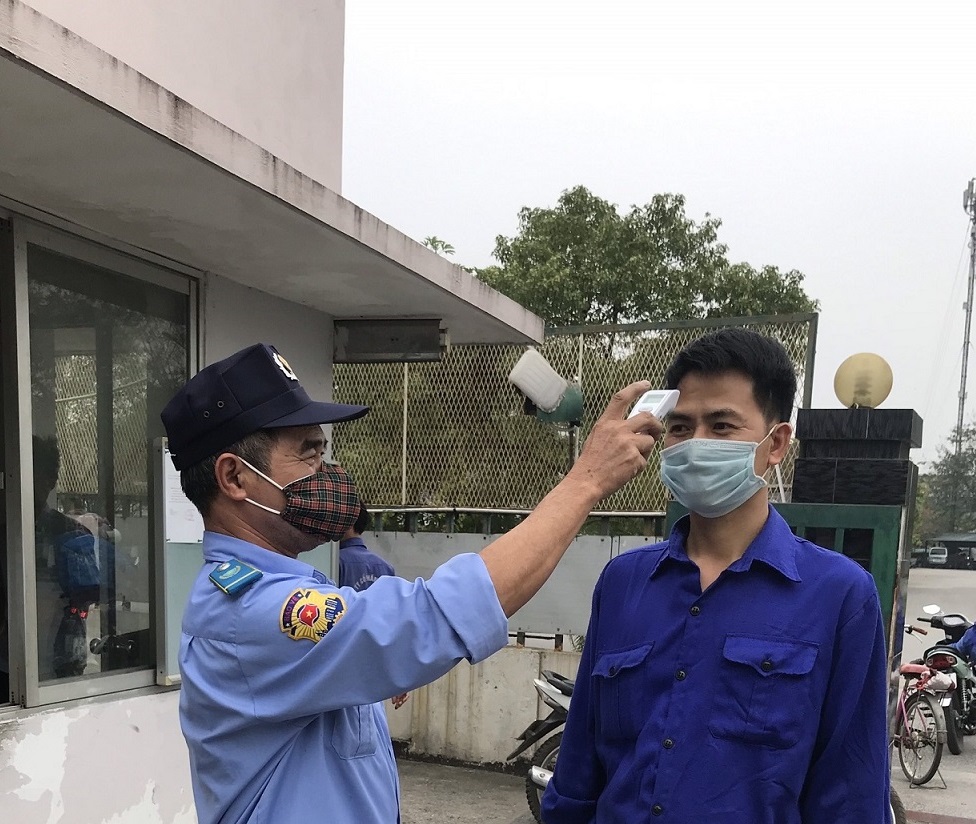 Ngoc Diep Group continues to rank at the top 500 largest private enterprises in Vietnam 2019
This is the 13th consecutive year, VNR500 Ranking has been researched and published to honor the largest enterprises in Vietnam,  which achieved  remarkable achievements in production and business activities.
With the scale of operation including 4 member companies, and  the system of agents spread from the North to the South, Group's products are present now in all 63 provinces and cities nationwide. In addition, Ngoc Diep Group is expanding its export markets, some aluminum products (Dinostar Aluminum) have been exported to markets such as Cannada, USA, and European countries.

VNR500 rankings in 2019 continue to witness the growth of businesses in the Service and Industry group which account  for more than 98% of the revenue proportion in 2019. Return on assets (ROA) of the whole Enterprise in VNR500 Ranking in 2019 is often 2.78.
You can see the List of VNR500 Ranking here: http://vnr500.com.vn/Charts/Index?chartId=2&year=2019
Ngoc Diep Group continues to reach the top of Profit500 Vietnam in 2019
This is a ranking to honor businesses with good profitability and  potential to become pillars for the development of Vietnam's economy, and at the same time contribute to introduce Vietnamese business brands to Domestic and international business community.
Always maintaining impressive revenue and profit growth, Ngoc Diep Group continues to be present and promoted in the Top 500 best profitable private enterprises in 2019.
In the coming time, in order to create a further breakthrough in growth, Ngoc Diep has invested and promoted  the parallel development of all four key industries: aluminum, doors, furniture and carton packaging. With a sustainable development strategy based on modern technology and professional services, Ngoc Diep Group is confident to produce superior and high-quality products that make an impressive mark on Vietnam and regional markets.
PROFIT500 – TABLE OF TOP 500 BEST PROFITED ENTERPRISES – based on independent research and evaluation results in accordance with international standards of Vietnam Report Company, which are periodically published annually from 2017 by VietnamNet Newspaper, with the advice of domestic and foreign experts.
See TOP PROFIT500 rankings here: http://profit500.vn/