Elevate your living space with the D-Pro ND-HP65 revolving door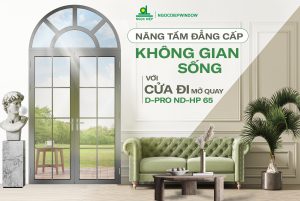 A revolving door is a door system that can be opened with an angle of 180 degrees, operating on the principle of opening or opening and rotating on a hinge axis, suitable for construction works from villas to high-class apartment buildings, in accordance with the usage habits of Vietnamese people. Possessing delicate lines and outstanding quality, NGOCDIEPWINDOW's D-Pro ND-HP65 revolving door is favored by customers for its superior features.
Open 100% of the door frame area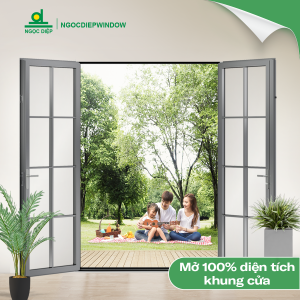 Produced from TC 6063 aluminum grade, European standard T6 hardness, specialized aluminum profile bar with thick frame size is the "strong backbone" creating the certainty and durability of the revolving door. D-Pro ND-HP65. The door can open 100% of the waiting area, expand to the sides to welcome light to create a spacious, spacious space, freeing up design space.
Outstanding tightness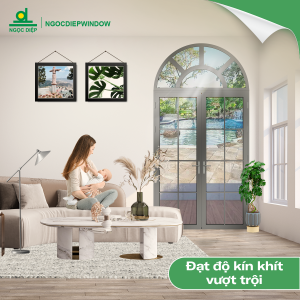 Thanks to the use of high-grade 3-layer EPDM rubber gasket system inserted into all open contact points between the frame and the wing, the D-Pro ND-HP65 revolving door achieves absolute tightness, sound insulation, and insulation. Outstanding heat, dust, and water resistance. In addition, the ability to perfectly synchronize with European and American accessories helps the door operate smoother and quieter than any conventional product on the market.
Elevate architectural space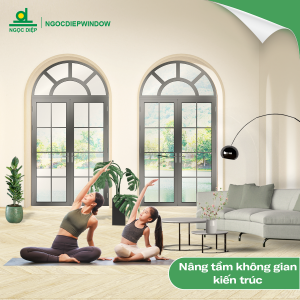 The D-Pro ND-HP65 revolving door can be perfectly combined with the design of the dome, decorative spokes…, contributing to enhancing the value of all architectural styles. Resonating with a modern, durable powder-coated finish with a 30-year warranty, the D-Pro ND-HP65 door possesses a luxurious, sophisticated and durable beauty over the years, bringing endless inspiration. from the owner's own living space.
More than safety and certainty, the D-Pro ND-HP65 revolving door is a "perfect piece" that adorns elegant and luxurious architecture for every project, creating a peace of mind, enhancing life. level for Vietnamese families.